Well I have been using Windows XP for a very long time now and I am quite happy with it. Even after when Vista was launched ,I kind of stuck with XP because I found Vista to be a real pain. Most of the things in Vista were quite complicated and for doing a very small thing we had to go through a lot of confirmations and pop-ups and screens which was quite annoying for a user sometimes.
Well then came windows 7 which I recently loaded onto my desktop just to try it out because I got good reviews from my friends and connections , I thought maybe I should give it a shot once . So after installing Windows 7 , I am quite satisfied with it till now . It works fine on my machine , it still has some complications for users like me who are very used to working on XP , but still a lot better than Vista by far .
Initially I found myself stuck with a small thing like changing the hibernate option settings on Windows 7 . I couldn't find the way to enable the hibernate option as I easily did on XP  but after going through few options and settings I finally found the way  ,so just thought that I would put it up over the internet.
Steps to enable the hibernate option on Windows 7 :
1)
first just right click on the desktop and then click personalize in the menu list
2)
then click on the screen saver icon on the right-bottom corner of the window
3)
a window will open after you click on screen saver and on that there will be a text written as " change power settings " , click on it which will open another window
4)
now when you see a window like above , find the link given as " change plan settings " on the right side of the window , corresponding to the power plan currently being used for the computer (indicated on the left-middle side of the window with a highlighted radio-button)
5)
after that you will again see another window having a link given as " change advanced power settings " , click on that to manage the advanced power settings
6)
a small window will open with several options displayed as a list , from that list look for an option called " sleep ", click on that option to expand it further for listing more options
7)
now you will see another extended option called " allow hybrid sleep " , click on it to display the options in it which will show setting as " ON " (default value) , now you just have to change it to " OFF " in the drop down box to enable the Hibernate option for your Windows.
8 )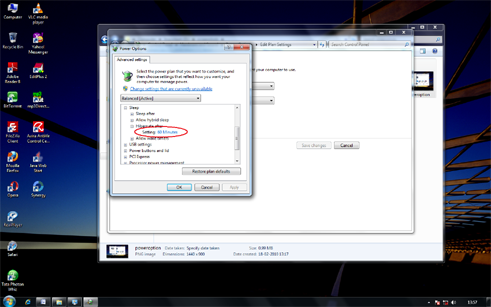 now there are several other power options which can be changed , like for example there is an option called " Hibernate After " which is used to set the time duration after which the computer will go into hibernation automatically if no user is using the machine or no work is being done by the operating system (in this case Window 7)
You can set it in form of minutes like 60 mins or 120 mins or even 111 mins to be precise or you can disable automatic hibernation by choosing 0 (zero).
9)  When you are done with your settings , just click on the " Apply " button of the window to save your settings and then click " Ok " to confirm  – Or –   you can directly click on " Ok " button to save and confirm at the same time .
10)
now after changing the settings , when you go to the start menu , you will get see another option called hibernate in the shutdown button .
Well i started of from right clicking on the desktop and then navigated to the power options , to reach the power options window there is a another way to go through the control panel in the start menu .
here you will get to see a lot more options for you windows which are very useful , but right now we are going to look at the part of windows hibernation settings , so there is an option called " Hardware and Sound ", click on it to go to the next window .
now on this window you will see the link " Power Options ", clicking on which will go to the window which you see in the above stated step number (4) .
Well after that, all the steps from step (5) are the same .