I have been in Mumbai since 3 years now.  And from that day, I am noticing how happening this city is.  The more you look, the more you will be surprised.  I will cover this topic later sometime, for now lets focus on the rains.
A glimpse:
Monsoons are most happening season out here. It starts Mid June – September End. Almost  4 big fat Months.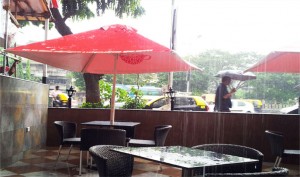 Very interesting thing about Mumbai's Monsoons is that the rains will take not more than 2 secs to reach  its highest, i.e 2 secs back it could have been bright and sunny and a moment later heavy rainfalls – unlike any city in India.
The LifeStyle:
The lifestyle here completely changes in this part of the year.  Mumbaikars start their monsoon shopping from beginning of May itself. They shop mainly for Umbrellas , Raincoats and Shoes.  And these don't last long enough for next monsoons.
But the best part is no one waits for the rainfall to get over here.  In short this city "Never Sleeps and never takes pause". They follow their normal routine as it was without the rains.
No bunking of Schools, Colleges and Offices. Yes but people do enjoy the rains by moving out of their places. They roam around with or without Umbrella. Enjoy Tea and cigarettes at the gate of their Colleges and Offices. Housewives enjoy Tea and Pakoras at home.
The hot Spots :
For best view of rains, people visit : Gateway of India, Marine Drive, Chowpatti, Juhu Beach, Bandstand. Best part of these places is that you sit, relax and enjoy with your family and friends,the beauty of the falls.
Yet other best places can be your terrace and balconies with a mug full of Hot Coffee.
The Machines :
Local Trains, Buses, auto rickshaws and Pedestrians will almost swim but wont stop.  Its rare in the history that local trains dont work since they are lifeline of Mumbai. So at most they might come to a halt for an hour or two  so that the tracks can be cleared, after that its business as usual.
At the End:
This romantic weather is my favorite. Whether you are just walking, sitting, traveling by car or bike, the environment is worth watching. Whether it is small children playing cricket at the street from the slums, or bikers passing at high speed or high class people pulling up their car windows, all is really worth capturing.