Stefan who?? Thats a good question. I being a programmer myself for the last 100 years , have this fascination with complex and amazing computer gear setups which other developers/designers use. I used to run a website which showcased computer setups, but due to lack of time the website died a natural death. I myself use 4 desktops with one laptop for my daily use as a software architect.
So you have a lot of geeks who love working on multiple computers at the same time. A lot of people have two systems to play with- usually a desktop and a laptop, but some go further and have three or four.
I have seen some amazing setups over the years, but Stefan Didak is the ultimate. He is the KING for the last few years. He works with , (DRUM ROLL) 7 computers. And thats not all. The hardware he has is top of the line.  Take a look below and drool: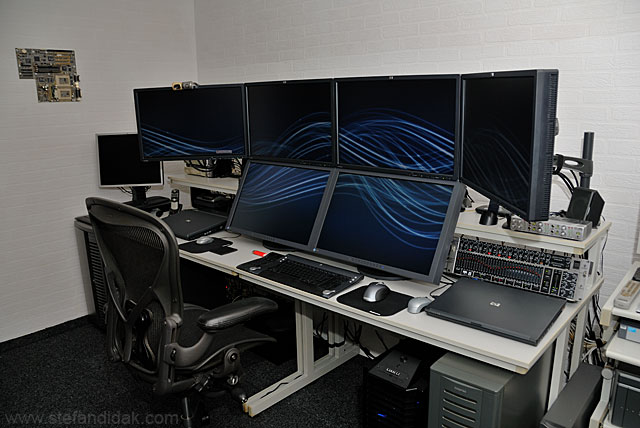 So what does Stefan do for a living? He is a CGI, computer animation, computer generated art, computer music/audio developer and consultant. He works as a consultant to other companies advising them on these areas. He divides his time between USA and Holland.
I have been following his office setup over the years and have had the good fortune of communicating with him on and off a few times over his amazing setup.
For more information about his setup, what he does etc. you can check out his website.